Today is 23 March, which means it's Darwin's third birthday!
It's been a whirlwind three years since Darwin Innovation Group was founded on 23 March 2019. To be honest, it's been a whirlwind time for most companies; a year after Darwin was founded, the COVID-19 pandemic dramatically changed the world of work for almost everyone. But we've also had a lot of positive experiences, and we've had the opportunity to work on exciting projects, such as the Darwin Autonomous Shuttle at Harwell Science and Innovation Campus.
Darwin's a slightly unusual company. There are plenty of clothing or kitchenware brands out there, but there aren't many companies dedicated to combining satellite and terrestrial communications. So where did the idea for Darwin come from? Why and how was it founded?
To answer these questions, we spoke to Darwin's co-founder Daniela Petrovic.
How was Darwin created?
The concept for Darwin first took root in 2018 at Telefónica, where Daniela worked at the time. At the time, there was a lot of discussion about the need for ubiquitous communications: supplementing terrestrial communications with satellites for greater coverage.
'One thing I don't like is hearing the same discussion in two meetings,' Daniela says. 'If we're talking constantly about the need for something, I start getting nervous and I need to do things. There were many conferences, both in the satellite and terrestrial industries, that were talking about the need for ubiquitous communications. I had a discussion with my colleagues to see whether it was possible to do something about it, and then we presented our idea for action to Brendan O'Rourke, the CIO of Telefónica at the time, who was very supportive.'
After Brendan O'Rourke lent his support to the idea, Telefónica invited the European Space Agency (ESA) to discuss forming a company to tackle ubiquitous communications. ESA also liked the idea of combining satellite and terrestrial communications into a single concept, and went on to support Darwin in projects such as the Darwin Autonomous Shuttle.
Darwin was created in March 2019, and many of Daniela's Telefónica colleagues who had supported the concept, such as Ram Kurakula, Rodrigo Barreto, Atul Gokhale and Paul Rizos, would join the fledgling company.
One major figure behind Darwin who didn't work for Telefónica was Milos Petrovic, Daniela's husband. He was enthusiastic about the idea, and the two of them founded the company together. Daniela was a telecommunications engineer and Milos a computer scientist by background; their different skillsets were able to complement each other in the aims of the company.
Looking back and looking forward
Darwin was born out of Telefónica and, to start with, the staff consisted largely of people who had worked at Telefónica alongside Daniela. This meant that, from the start, the company had a lot of experience and knowledge from the terrestrial communications industry. An early priority was recruiting people from a satellite communications background in order to turn the idea of ubiquitous communications into something tangible.
In the three years since then, Darwin has made a lot of progress. Last year we had the opportunity to demonstrate our ubiquitous communications technology in Cornwall, where, despite variability in both terrestrial and satellite coverage in the area, we were able to remain connected in motion 99% of the time.
We've also worked on projects that could benefit from this technology. In collaboration with O2, we opened the Darwin SatCom Lab at Harwell Science and Innovation Campus in 2020, as a space for testing connected and autonomous vehicle (CAV) technology; remaining connected at all times is particularly important for self-driving vehicles. In collaboration with ESA, meanwhile, we've been working on the Air Quality Platform as a way of measuring vehicle emissions.
Perhaps the most visible of our projects is the Darwin Autonomous Shuttle, which was launched in 2021 with the aid of many of our partners. It's now been transporting passengers around Harwell Campus for four months, and we're working to launch similar autonomous passenger services in other locations, such as Málaga.
The importance of collaboration
A recurring theme in Daniela's story was the fact that none of this would have been possible alone.
Darwin could not have been founded if it had been a single person's idea, without the support of others. The creation of Darwin needed the faith and backing of many people. Daniela's colleagues helped her to shape, refine and present the concept, and Telefónica and ESA's support helped to make it a reality.
Similarly, Darwin would not be able to succeed in its goals as a startup standing alone. We're able to do the things we do because we have the aid of our partners. Telefónica, ESA, UKSA, Hispasat, Aviva, Cognizant, the University of Oxford and the University of Glasgow: all these organisations have lent their support to Darwin, and, with their help, we're able to achieve far more than we could ever achieve alone.
As we mentioned in our article on the importance of diversity, innovation thrives in an environment with a variety of skills and perspectives. We're trying to achieve that on a large scale by partnering with these varied organisations, creating an ecosystem to support greater innovation than a single startup is capable of by itself.
The story of Darwin isn't just the story of a company; it's the story of the people behind that company's success. Darwin owes its existence to everyone who helped create it, everyone who's joined along the way, everyone who's aided in our goals from our partner organisations. With the help of those people, we're hoping to achieve much more in the future.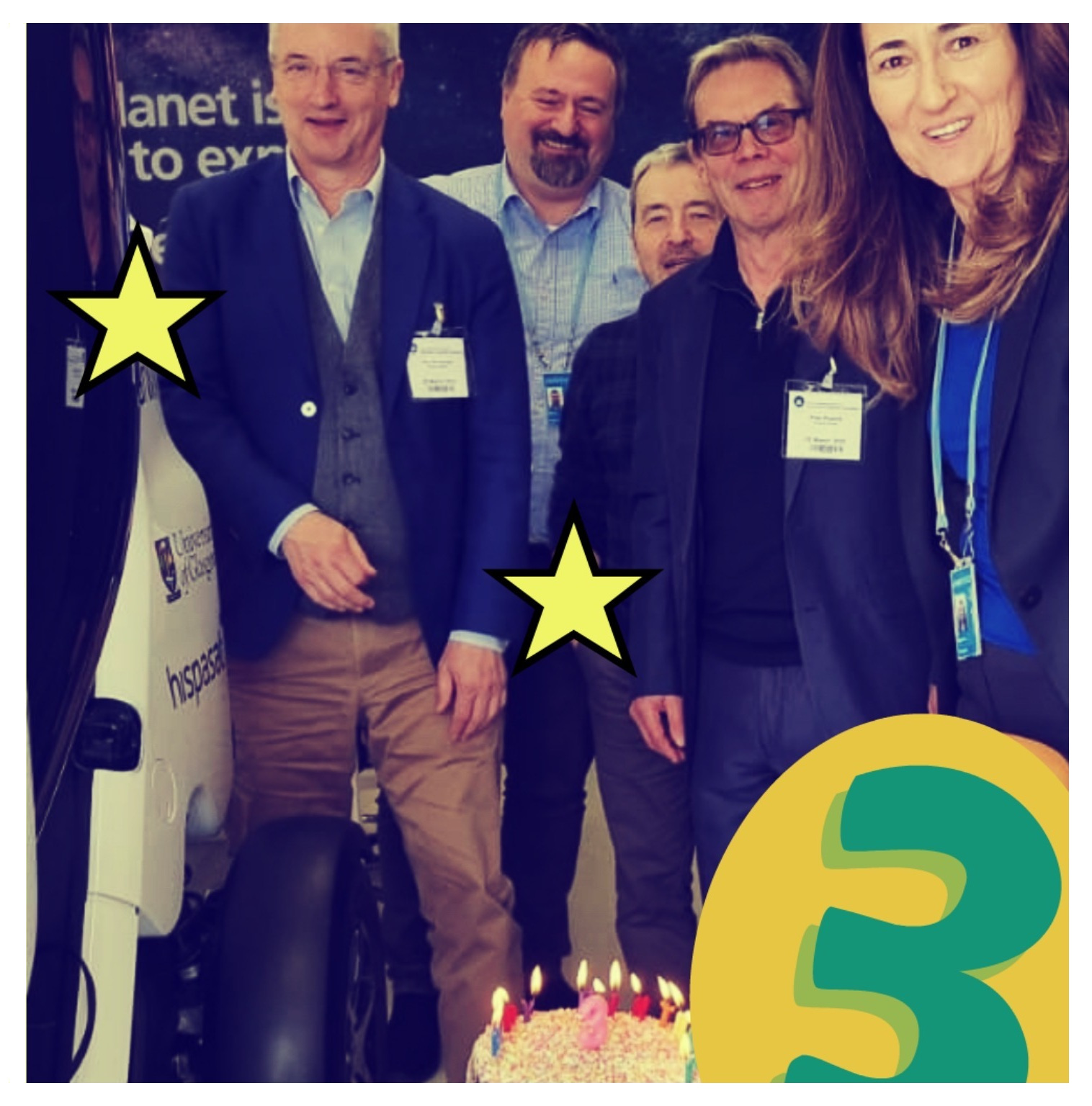 Darwin Innovation Group is a UK-based company that provides services related to autonomous vehicles and communications. If you're interested in working with us, take a look at our careers page. If you'd like to know how we can help your organisation make use of autonomous vehicles, contact us. You can also follow us on LinkedIn or Twitter.