Residents of Oxford may have spotted something unusual this September: a self-driving vehicle on the city's streets. The Darwin Autonomous Shuttle usually operates at Harwell Science and Innovation Campus, but it spent ten days in Oxford to demonstrate how autonomous public transport can coexist with live traffic in a busy city.
The Oxford trial ran from 20 to 30 September 2022, during which the shuttle travelled back and forth along Norham Gardens, Parks Road and part of Broad Street. The shuttle is a level 4 autonomous vehicle and doesn't need a human driver, but a safety operator was aboard at all times to keep an eye on things.
The goal of this trial is to inform connected and autonomous vehicle (CAV) legislation and insurance, helping to pave the way for wider use of autonomous vehicles in the UK. Darwin Innovation Group already offers setup and operation services to organisations or councils that are interested in making use of autonomous vehicles.
'It was a great experience, challenging but very satisfying as we managed to overcome all the challenges,' said Paul Proteasa, one of Darwin's safety operators aboard the shuttle. 'We got a lot of attention while the shuttle drove itself around Oxford, with pictures and videos around every corner.'
The shuttle also showcases Darwin's ubiquitous communications technology, which makes it possible to switch seamlessly between 5G and satellite communications on the move. The shuttle makes use of Virgin Media O2 and Hispasat's networks to remain connected at all times.
The Darwin Autonomous Shuttle is operated by Darwin Innovation Group and, in addition to STFC and Harwell Campus, is supported by Darwin's partners, including the European Space Agency, the UK Space Agency, Aviva, Virgin Media O2, Hispasat, Cognizant, the University of Oxford and the University of Glasgow. Darwin works with a number of CAV manufacturers, and this shuttle was built by Navya.
The University of Oxford also played a significant role in the Oxford trial, particularly Lady Margaret Hall college. In addition, the trial in Oxford required the help of Oxford City Council, CCAV, the traffic commissioner, Oxfordshire Fire and Rescue Service and the Oxford police.
'We are very grateful to Bart Ashton and all the staff at Lady Margaret Hall, who were very welcoming and helpful,' Paul said. 'It was a pleasure to be here, and I can say we really made some friends.'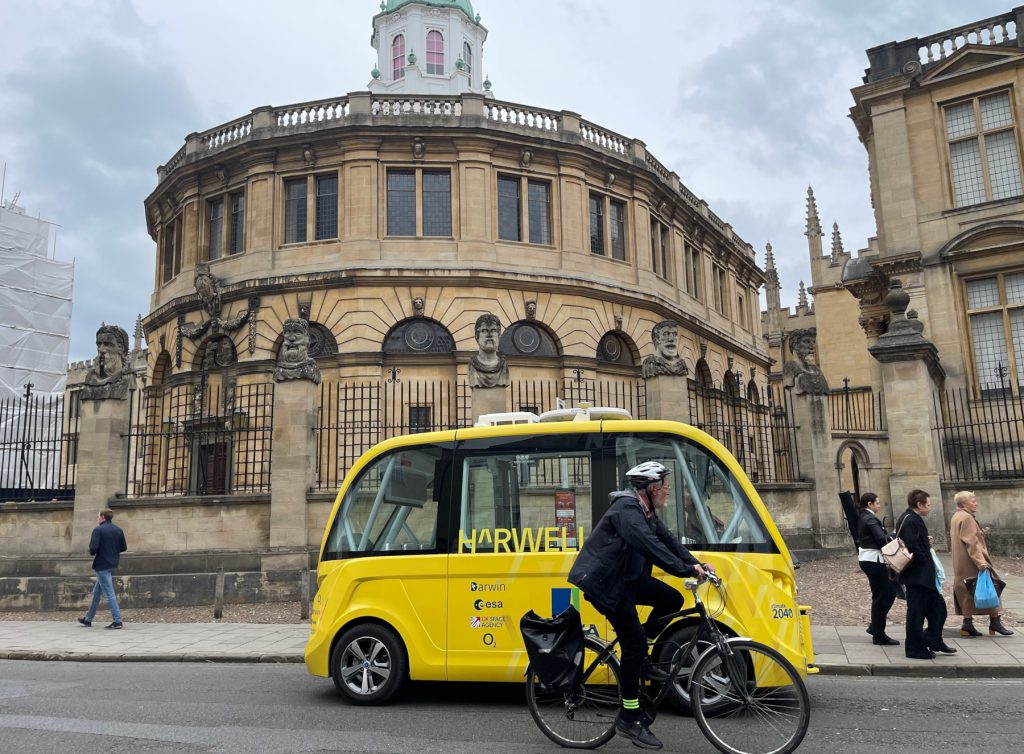 Darwin Innovation Group is a UK-based company that provides services related to autonomous vehicles and communications. If you're interested in working with us, take a look at our careers page. If you'd like to know how we can help your organisation make use of autonomous vehicles, contact us. You can also follow us on LinkedIn or Twitter.